In order to establish a new-style resource-recycling system in the society while simultaneously dealing with the technological development, various issues for creating a new social system need to be considered (collection system, market development, etc.).
The Fukuoka Research Commercialization Center For Recycling Systems, as a policy-promoting research organization that comprehensively solves these problems, works as a coordinator to smoothly facilitate joint research by industry, academia, government, and the private sector, and to promote commercialization of the research results.
Introduction of the center's activities
To promote the material-recycling business, we provide support during every stage starting from consultations on joint research to commercialization and business expansion.
The material-recycling business is not only about recycling, but it consists of the 3Rs, which are also waste reduction and products reusage.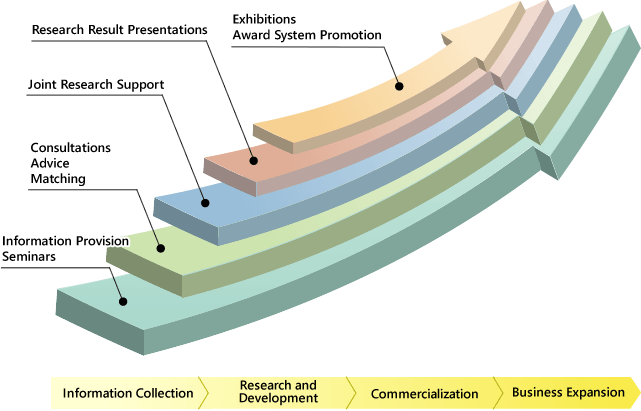 Joint Research Support Service
About Joint Research Support Service

We support joint research to establish social systems which include recycling technology and sorted waste collection that are in accordance with a special protocol.

Introduction of coordinators

At the time of joint research, we will offer total support from the planning stage to commercialization involving our coordinators with rich experience in private enterprises.
Support Examples

We offer advice on the market (needs) research and product planning, procurement of raw materials, customers, and approaches for various products, etc.
We introduce researchers and companies with the technology necessary for research, and participate in discussions with the parties involved.
In addition, if it becomes necessary to set up a demonstration plant as a result of joint research, etc., the demonstration test site located in Kitakyushu Eco Town is available.
Practical Support Service
We support commercialization of research results, market expansion, and regional development.
Research Result Presentations

Research members will announce their research results by research groups and those from joint research projects achieved in previous years.
Both presenters and visitors can use it to find potential joint research candidates and collaboration institutions for technology development, product sales, and supply of raw materials.
In addition, keynote speeches are given on the latest research trends and examples of initiatives.

Exhibitions

We exhibit products made as the result of joint research projects by research groups in the Fukuoka Research Commercialization Center For Recycling Systems at various exhibitions.
Joint exhibitions can still be held even after joint research is completed.
They can be used as a tool for sales channels expansion.

Award System Promotion

The research results with remarkable achievements are recommended for various presentation systems.
Human Resource Development and Information Provision Service
Each year we hold seminars on specific topics for human resource development for companies in order to build a sound material-recycling society, and to provide necessary information to commercialize.
In addition, we will provide various environmental and recycling information on the Internet regarding our research results.
Policy Approach
We are working jointly with Fukuoka Prefecture on key measures regarding local policies.
Brochures and Videos